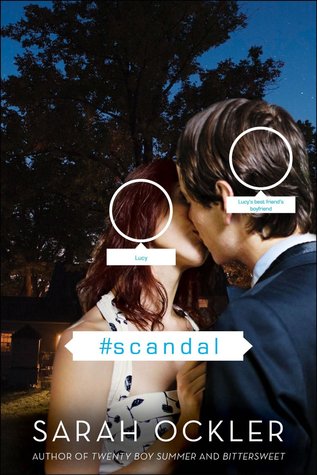 Lucy's learned some important lessons from tabloid darling Jayla Heart's all-too-public blunders: Avoid the spotlight, don't feed the Internet trolls, and keep your secrets secret. The policy has served Lucy well all through high school, so when her best friend Ellie gets sick before prom and begs her to step i

n as Cole's date, she accepts with a smile, silencing about ten different reservations. Like the one where she'd rather stay home shredding online zombies. And the one where she hates playing dress-up. And especially the one where she's been secretly in love with Cole since the dawn of time.




When Cole surprises her at the after party with a kiss under the stars, it's everything Lucy has ever dreamed of… and the biggest BFF deal-breaker ever. Despite Cole's lingering sweetness, Lucy knows they'll have to 'fess up to Ellie. But before they get the chance, Lucy's own Facebook profile mysteriously explodes with compromising pics of her and Cole, along with tons of other students' party indiscretions. Tagged. Liked. And furiously viral.




By Monday morning, Lucy's been branded a slut, a backstabber, and a narc, mired in a tabloid-worthy scandal just weeks before graduation.




Lucy's been battling undead masses online long enough to know there's only one way to survive a disaster of this magnitude: Stand up and fight. Game plan? Uncover and expose the Facebook hacker, win back her best friend's trust, and graduate with a clean slate.




There's just one snag—Cole. Turns out Lucy's not the only one who's been harboring unrequited love..

.
Pages: 368
Source: Publisher via Edelweiss
Sarah Ockler is one of my favorite contemporary authors, especially after how much I enjoyed Bittersweet and The Book of Broken Hearts. #scandal, while entertaining, was not my favorite Sarah Ockler. I failed to connect with most of the characters, but the plot itself was engaging throughout the entire book!
I wanted to see more of Cole in the book. The romance didn't work for me, mainly because I didn't understand why exactly Lucy had fallen for him. It happens before the story starts, so I was hoping there'd at least be flashbacks or something. I also wanted more background on her friendship with Ellie, since I couldn't understand exactly why her friend pretty much abandoned her when the photos were posted. Everyone goes crazy out of their way to bully her, as well.
The main character, Lucy, was okay. The thing that frustrated me was how she didn't defend herself, and put up with so much. What she did was definitely worth feeling a little guilty about, but she consistently wallowed in self-pity about it. She's described to be this super tough chick, but I just couldn't see it very much. I feel like I couldn't completely understand any of the characters in the story.
The plot was intriguing, and I was curious to see who had posted all the awful photos from Lucy's phone. I did figure out who it was about halfway through the story, considering it was who made the most sense to me. I didn't fully understand the motivation for the person who did, as I thought the explanation given was way too extreme.
This book took a terrible, and sadly realistic situation that could happen and put it in perspective. Unfortunately, one thing that really frustrated me was the principal at Lucy's school. She was so unprofessional and unwilling to hear Lucy out about the situation she was put in.
The relationship between Lucy and her sister was very interesting! That was probably one of my favorite aspects of the novel. I thought some things that happened at the end regarding both of them were super sweet. They had an awesome sibling bond, which is something I don't read about too often in novels.
#scandal was an interesting contemporary, with a very real issue depicted. I think Ms. Ockler did a great job at depicting that issue, but I just couldn't understand the character's motivations for things or find them to be likable. I'd give #scandal 3 out of 5 flowers.