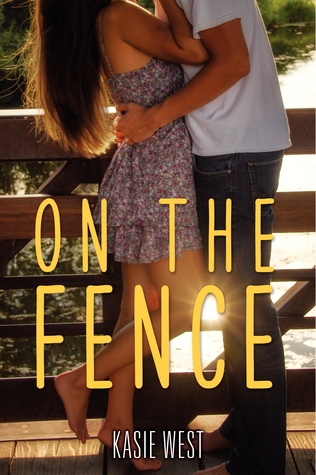 She's a tomboy. He's the boy next door…
Charlie Reynolds can outrun, outscore, and outwit every boy she knows. But when it comes to being a girl, Charlie doesn't know the first thing about anything. So when she starts working at a chichi boutique to pay off a speeding ticket, she finds herself in a strange new world. To cope with the stress of her new reality, Charlie takes to spending nights chatting with her neighbor Braden through the fence between their yards. As she grows to depend on their nightly Fence Chats, she realizes she's got a bigger problem than speeding tickets-she's falling for Braden. She knows what it means to go for the win, but if spilling her secret means losing him for good, the stakes just got too high.
Fun, original, and endearing, On the Fence is a romantic comedy about finding yourself and finding love where you least expect.
Pages: 320 pages
Source: Publisher via Edelweiss
Release Date: July 1, 2014
I kind of really want to start a fan club for Kasie West. Her books are seriously that good, and On The Fence was no exception. I devoured it in three hours and I'm already eager to read the next book she writes (*hopes it's soon*). The romance was adorable and On The Fence definitely makes the perfect summer read.
Charlie, the main character, is a tomboy, largely because she's grown up with three older brothers and her dad. She was so likable and her brothers were all amazing! They were hilarious, and I loved how protective they were of Charlie. They were some of the best brothers that I've ever read about. The family relationships were all so great. Out of all of the brothers, I think Gabe was my favorite. He was so goofy and optimistic.
Over the course of the book, Charlie begins to realize that she may have deeper feelings than she realized for Braden, someone she has always thought of as another brother. He's an amazing guy and I wanted him and Charlie to be together from the start. They both love and play sports and they're hilarious together.
Along with the adorableness that makes up Kasie West's books, there was a heavier undertone in the fact that Charlie had not ever really gotten over her mother's death. Throughout the book, she starts to realize some things about both herself and other friends that change the way she looks at herself.
If you haven't read a book by Kasie West, what are you waiting for? :) They're always amazing reads that turn out to be instant favorites. I'd give On The Fence 5 out of 5 flowers.