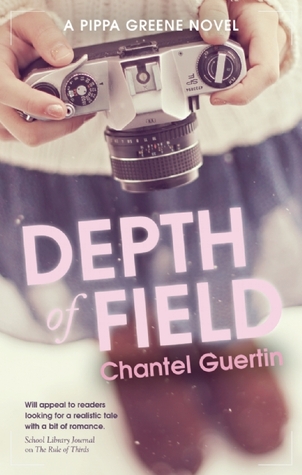 Two weeks in New York City should be the time of Pippa's life: she's attending the prestigious Tisch Photography Camp, her boyfriend, Dylan McCutter (two months and counting!) is coming with her, and their parents are 500 miles away. Talk about lights, camera, (swoony, unchaperoned) action! But what should be 14 unforgettable days of bliss turns into chaos when her one and only nemesis, Ben Baxter, proves to be surprisingly more comple

x than she could've ever imagined, and her T

isch mentor, a renowned photographer, seems to have a lot more to do with her parents' past than anyone wants her to know. Is Pippa out of her depth?
The Rule of Thirds was a great book, and Depth of Field turned out to be even better! I loved the storyline and all the new developments that took place with old characters.
I think part of what makes this book such a great read is how fun and readable it is. I read this book in one sitting and really enjoyed reading about Pippa's experience at the Tisch photography school.
Pippa's an easily relatable character and certain things that she said or thought were hilarious. Her group of friends was pretty awesome, as well. The one thing that definitely surprised me about this book was Ben.
Ben was so different than he was in the last book. I didn't like him in the last book due to certain events that occur, but my opinion completely changed with this one.
The ending leaves off with a small almost-cliffhanger, just because certain things are left up in the air. I'm looking forward to the next book and hoping that it'll come out sooner rather than later :) I'd give Depth of Field 4 out of 5 flowers.