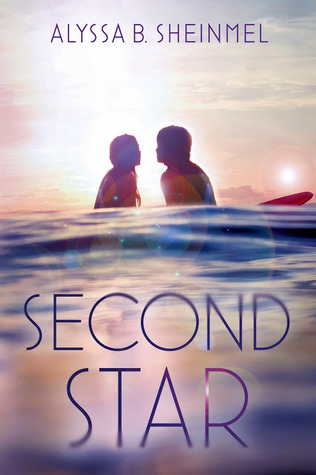 A twisty story about love, loss, and lies, this contemporary oceanside adventure is tinged with a touch of dark magic as it follows seventeen-year-old Wendy Darling on a search for her missing surfer brothers. Wendy's journey leads her to a mysterious hidden cove inhabited by a tribe of young renegade surfers, most of them runaways like her brothers. Wendy is instantly drawn to the cove's charismatic leader, Pete, but her search also points her toward Pete's nemesis, the drug-dealing Jas. Enigmatic, dangerous, and handsome, Jas pulls Wendy in even as she's falling hard for Pete. A radical reinvention of a classic, Second Star is an irresistible summer romance about two young men who have yet to grow up--and the troubled beauty trapped between them.
Second Star was a Peter Pan retelling and from the cover, I honestly couldn't tell it was about Peter Pan. It's also been a long time since I've last watched Peter Pan so I can't say that I'm comparing it. I do know the characters but as with the actual story, I have no idea what happened. (What an absolute failure I am, haha)
Despite my foggy memories about the original story, I still quite enjoyed Second Star. All the characters (Pete, Belle, Wendy, and Jas) were all quite charming in their own way. The side characters feel like great friends too. My favourite part of the book is probably the surfing. With it, I felt free like I'm actually surfing right along with Wendy and the crew. Kensington also felt like a magical place. It's like once you leave, you can never find your way back there again.
I would actually give it four flowers but what made me deduct one was the love triangle. It seems like Wendy likes both Pete and Jas for absolutely no reason at all. She just thinks they're good looking and alluring, and that's it. Wendy must have some kind of reason why she likes them right? Nope. I don't even get it. In the end, she even tells one of them, "I love you." MIND BLOWN. This is a guy you haven't even known for more than a few weeks, Wendy. She gives no points why she likes them either. She just feels pulled to them.
Overall, I think Second Star is a pretty good retelling of Peter Pan. Aside from the love triangle, everything else is awesome and magical. I really enjoyed myself while reading this and I would recommend it to fans of Peter Pan or someone that enjoys fairy tale retellings.
My name's Ariella and I'm a 15 year old Canadian girl that loves to read. Everything began with a book called the Lightning Thief and from there I was hooked. I enjoy and read all kinds of genres but my favourites are paranormal and mythology. I love reading YA books but I love Middle Grade books as well. I also blog over at Secrets of Lost Words. You can usually find me crawling on twitter so feel free to contact me!