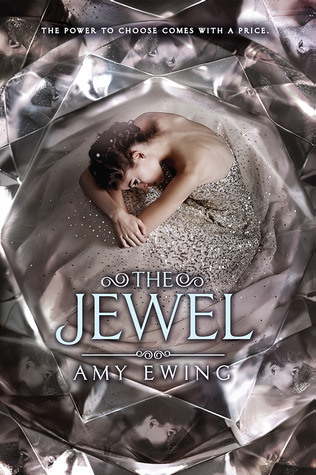 The Jewel (The Lone City #1)by Amy Ewing

Publisher: HarperTeen

Release Date: September 2nd 2014

Rate: 3.5 Flowers


Synopsis:




The Jewel means wealth. The Jewel means beauty. The Jewel means royalty. But for girls like Violet, the Jewel means servitude. Not just any kind of servitude. Violet, born and raised in the Marsh, has been trained as a surrogate for the royalty—because in the Jewel the only thing more important than opulence is offspring.




Purchased at the surrogacy auction by the Duchess of the Lake and greeted with a slap to the face, Violet (now known only as #197) quickly learns of the brutal truths that lie beneath the Jewel's glittering facade: the cruelty, backstabbing, and hidden violence that have become the royal way of life.




Violet must accept the ugly realities of her existence... and try to stay alive. But then a forbidden romance erupts between Violet and a handsome gentleman hired as a companion to the Duchess's petulant niece. Though his presence makes life in the Jewel a bit brighter, the consequences of their illicit relationship will cost them both more than they bargained for.
I really really liked the idea behind this book. I can always appreciate an author who is willing to break the status quo in order to touch on a topic that often gets ignored because it makes people uncomfortable. Selling girls at auctions? Forcing them to be surrogate mothers? That's some pretty intense material there and I love that the author was brave enough to tackle such a challenging and sensitive story.
And for a while, it really worked out for me. In fact, I was riveted to this book. I couldn't turn the pages fast enough. The world was simple but fascinating. I wish they would have elaborated more on how the civilization actually got to that point, but I was content with knowing what I did and hoping the rest would be revealed in a sequel. I even like the added twist of a fantasy element in the way these women are able to control certain elements with the force of their mind.
The characters were even more thrilling. Violet was passionate about her freedom and her friendships and you couldn't help but root for her. There were several other characters that just captured my attention as well. The Duchess of the Lake was simply brilliant…because you can't decide whether or not to hate her every time she comes around. I love characters like that. They remind us that humans are not usually good or evil and that most people can't be separated into boxes on this criteria alone. We are much more complicated than that. I also have a feeling that the Duchess's son will play a bigger role in the next novel and I am curious to see how he goes from being a minor, slightly interesting character to a major component of the story.
Everything was going great. I loved the premise. I loved what the author was doing with it and I was speeding through the novel so that I could just figure out what was going to happen. And then a boy happened. I shouldn't say that I was surprised. After all, they did mention a mysterious man in the synopsis. But I was already so into the plot, there didn't seem to be a place for a romance. And I think I was right, because the characters were forced to fall in love within days. They meet like three times and suddenly they love each other and are willing to sacrifice anything for each other and so on. I cannot tell you how frustrating that was. It was similar to watching this great tower being built and then demolished for no particular reason. The book's focus turned away from the ideas I really wanted flushed out and instead centered on this love that made absolutely no sense to me.
I have two theories about this. Either the author was told last minute that she needed to add some romance because this is a YA book and it will not sell without a hot, mysterious guy or she's still got something up her sleeve. I'm hoping for the latter and the ending of the book gave me hope so I will have faith in the author and her ability to actually do something worthwhile with this romance. It can be done. And I know that she is capable of doing it just looking on the first half of the book. There is something that can be learned or gained from this experience and I can only beg the author to do something unexpected that promotes character growth and takes the plot to a new level.
I bet she already has.
This book may not have turned out how I wanted it to, but it still has a lot of potential and I will be reading the next book. I know this series can be turned around and I have a feeling that was the author's intentions all along.
Oh hello there! My name is Emily, though some of you may know me as the Bookie Monster. As

the name would suggest, I devour books like the Cookie Monster devours cookies. In my spare time, I like to bake cookies (and devour those as well) and dream about taking over the world. As if my book obsession wasn't life consuming enough, I work in the children's room at my local library and I am currently a sophomore in college majoring in English. It's safe to say I'm a bit of a book fanatic. I discreetly shed a few tears on my eleventh birthday when I did not receive my Hogwarts acceptance letter and I waited seven hours outside in the rain just to get a good seat at the Hunger Games midnight premiere. I'm terrified of blood and Disney movies make me cry (in a good way). My passions include hippos, hugs, and Hans Zimmer…and uh,long walks on the beach. I'm just a normal girl w

ith a slightly abnormal and frightfully expensive obsession. Nice to meet you!
Amy Ewing is the young adult author of
THE JEWEL
, the first in a trilogy from HarperTeen, coming out September 2014.
She grew up in a small town outside Boston, where her librarian mother instilled a deep love of reading at a young age. Amy moved to New York City in 2000 to study theater at New York University. Unfortunately, her acting career didn't quite pan out. She worked in restaurants, as an administrative assistant, a nanny, and a sales representative for a wine distributor before the lack of creativity in her life drove her to begin writing.
Amy received her MFA in Creative Writing for Children from The New School, where she was lucky enough to meet a fabulous community of YA writers who keep her sane on a daily basis. She lives in Harlem, where she spends her days writing, eating cheese, and occasionally binge watching The Vampire Diaries.
Win (1) of (3) copies of The Jewel (Us Only)