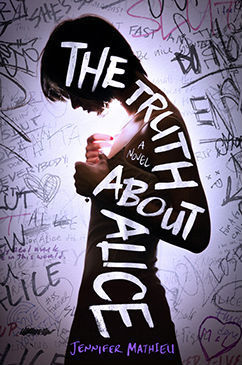 Everyone knows Alice slept with two guys at one party.

But did you know Alice was sexting Brandon when he crashed his car?

It's true. Ask ANYBODY.

Rumor has it that Alice Franklin is a slut. It's written all over the bathroom stall at Healy High for everyone to see. And after star quarterback Brandon Fitzsimmons dies in a car accident, the rumors start to spiral out of control.

In this remarkable debut novel, four Healy High students—the girl who has the infamous party, the car accident survivor, the former best friend, and the boy next door—tell all they know.

But exactly what is the truth about Alice? In the end there's only one person to ask: Alice herself.
The Truth About Alice turned out to be a way better book than I expected. From the perspectives of four different people, we get to discover who Alice really is and what actually happened during that incident. I've never really read something like this before where you find out about someone through various different perspectives.
The rumour was that Alice is a slut. She slept with two guys during one night at a party. Later, one of the guys died in a car accident. Everyone then started to avoid her and she basically hit the rock bottom of social status. As I said, the story is told between the perspectives of four different bystanders to the situation. They were the party holder, the car accident survivor, the former best friend of Alice, and the nerd. While the characters were the cliched high school types, I really liked how their stories told us bits of information (whether true or not) about this mysterious Alice Franklin. In the end we were able to uncover what really happened and I think the way of story telling really sucked me into the story.
I think the Truth About Alice is a book that addresses some serious problems and it's a really enjoyable story. Its alluring way of telling the story lets us want to uncover the truth and find out what really happened that night at the infamous party.
My name's Ariella and I'm a 15 year old Canadian girl that loves to read. Everything began with a book called the Lightning Thief and from there I was hooked. I enjoy and read all kinds of genres but my favourites are paranormal and mythology. I love reading YA books but I love Middle Grade books as well. I also blog over at Secrets of Lost Words. You can usually find me crawling on twitter so feel free to contact me!