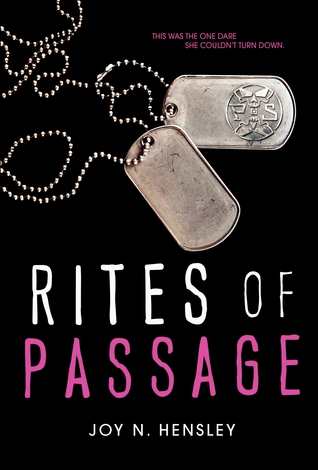 Sam McKenna's never turned down a dare. And she's not going to start with the last one her brother gave her before he died.

So Sam joins the first-ever class of girls at the prestigious Denmark Military Academy. She's expecting push-ups and long runs, rope climbing and mud-crawling. As a military brat, she can hand

le an obstacle course just as well as the boys. She's even expecting the hostility she gets from some of the cadets who don't think girls belong there. What she's not expecting is her fiery attraction to her drill sergeant. But dating is strictly forbidden and Sam won't risk her future, or the dare, on something so petty...no matter how much she wants him.

As Sam struggles to prove herself, she discovers that some of the boys don't just want her gone—they will stop at nothing to drive her out. When their petty threats turn to brutal hazing, bleeding into every corner of her life, she realizes they are not acting alone. A decades-old secret society is alive and active… and determined to force her out.

At any cost.




Now time's running short. Sam must decide who she can trust...and choosing the wrong person could have deadly consequences.
Release Date: September 9, 2014
Out of the books I was able to receive at ALA, this was the first one I picked up. The main reason for that was due to the fact that Hannah gushed about this book and already having been interested in it, I was excited to give it a try! This book proved to be awesome, easily recommendable, and one that I'll admit gave me a ton of flashbacks to Cadet Kelly.
The setting of Rites of Passage takes place in a formerly all boys military school, in which five girls are attending for the first year. Sam, one of those girls, is determined to stick through military school all because of a dare that her older brother had given her. The military school was so intense to read about and while something that I've always assumed to be brutal, reading about it really gives you a new perspective of just how tough it is. After reading the book, I looked at the author's bio, which revealed that she attended military school herself. The realism definitely came through, and it was hard to read about just how much the cadets at the school endured. The main character, Sam McKenna, or Mac as she's called, toughed out the school and worked so hard to stick through it despite everything else that she had to endure. I had so much admiration for her.
Romance does play a role in the book, but it ended up going in a different direction than I assumed that it would in the beginning. I ended up really liking the love interest overall, and I thought his and Sam's relationship was an especially realistic one. Family issues play a pretty big role in this book and all of the different members of Sam's family were complex and each dealing with their own struggles, especially due to something that had happened in their past.
In attempts to get Sam, as well as the other girls, to leave the school, there is so much hazing and just all around bullying. It doesn't help Sam that her brother's the cadet colonel either. There's more than just harmless pranks used in the attempts to get Sam out of the school and some interesting things come to light about outside forces who don't want girls attending the school at all. That part was crazy to read about, especially with the way things ended up regarding that.
The one complaint that I have about this book is the way things are left so open-ended in many regards. I know that two sequels are planned, but I feel like certain contemporaries should just be standalones. That's my personal opinion, but with over four hundred pages in this book, I just wished that the author had taken the time to better wrap things up in the end. There were a few things about the ending that didn't fully make sense to me, either.
Overall, though, I really enjoyed Rites of Passage. This is one that I'd definitely recommend to anyone, whether you're a contemporary lover or not. It's such an entertaining read that at the same time makes you so connected emotionally to the characters. I'd give it 4 out of 5 flowers :)