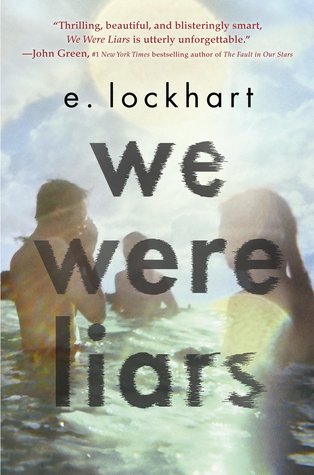 A beautiful and distinguished family.

A private island.

A brilliant, damaged girl; a passionate, political boy.

A group of four friends—the Liars—whose friendship turns destructive.

A revolution. An accident. A secret.

Lies upon lies.

True love.

The truth.

We Were Liars is a modern, sophisticated suspense novel from National Book Award finalist and Printz Award honoree E. Lockhart.

Read it.

And if anyone asks you how it ends, just LIE.
Source: Publisher
We Were Liars is a very different book. I've never really read anything like it (not for the better or for the worse). The writing style is different from many people and the way it was formatted was different too. I can't really say if I liked the formatting or not. It's just like how sentences break off into another line for no reason. I read on my phone (small screen) so it didn't bother me too much. I read the breaking sentences without much of a problem. If you have issues with that, just skip this book.
We Were Liars started out really dull. It's a story about Cadence, who is from this super rich family that has everything. They care about their perfect appearances, but really, they have tons of family problems. The story was okay. It wasn't really that amazing. Cadence goes to this family island everywhere to meet up with the "Liars" which are her cousins and Gat (the love interest). The Liars don't really do anything over the top, and they have a lot of meaningless conversations. Cadence was also struggling with her love for Gat. It's a coming of age story but it can basically be summed with one word: #firstworldproblems
The way it ended was surprising. I never saw that coming. That was probably the best part of the whole book. The ending made me add one more flower to the rating I was originally going to give. If you can get through the beginning, the book does get better eventually. Cadence really had to solve her own problems and find the truth of what happened with that 15th summer with the Liars.
Thanks to Random House for providing a copy of this book in exchange for an honest review! :)
My name's Ariella and I'm a 15 year old Canadian girl that loves to read. Everything began with a book called the Lightning Thief and from there I was hooked. I enjoy and read all kinds of genres but my favourites are paranormal and mythology. I love reading YA books but I love Middle Grade books as well. I also blog over at Secrets of Lost Words. You can usually find me crawling on twitter so feel free to contact me!