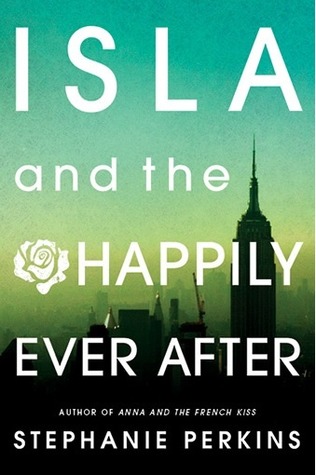 Love ignites in the City That Never Sleeps, but can it last?


Hopeless romantic Isla has had a crush on introspective cartoonist Josh since their first year at the School of America in Paris. And after a chance encounter in Manhattan over the summer, romance might be closer than Isla imagined. But as they begin their senior year back in France, Isla and Josh are forced to confront the challenges every young couple must face, including family drama, uncertainty about their college futures, and the very real possibility of being

apart.

Featuring cameos from fan-favorites Anna, Étienne, Lola, and Cricket, this sweet and sexy story of true love—set against the stunning backdrops of New York City, Paris, and Barcelona—is a swoonworthy conclusion to Stephanie Perkins's beloved series.
I feel like most of the reading community has been holding their breath for Isla and the Happily Ever After to finally release. I was just as excited to read this book, and devoured it in a few hours. It was a fantastic conclusion to one of my favorite series!
I didn't remember Isla from the previous books, but there are certain mentions of her past in this novel that definitely brought up memories of her from the previous books. Out of all of Perkin's main characters, she was, by far, the one that I saw the most of myself in. I'm more of an introverted person, so I was able to instantly identify with that aspect of her personality. She was funny, too, and just a great character! Her struggle with what she wanted to do after high school added a lot of realism, as well. I liked Josh, although I wouldn't say he's my favorite of Stephanie Perkins male MC's. He's definitely passionate and I though the fact that he was an artist was especially cool.
For the relationship between Isla and Josh, the best way I could describe it would be a whirlwind romance. They were adorable together and both were so passionate about their relationship. Things developed very quickly, which I think was a big part of what led to the eventual conflict. I do think the conflict was realistic, especially considering the circumstances that surrounded the beginning of their relationship. However, I was frustrated with both characters at how they responded to various obstacles.
The realism in this novel was perfect and I loved Isla's best friend, Kurt. He was a great character and he did the perfect things at times in order to help along different situations with the characters. The characters from previous books do make a brief cameo towards the end, and I loved it so much! Their roles were perfect and I enjoyed reading about how everyone had almost matured over time.
The setting is and probably always will be one of my favorite aspects of these books. The setting switches between Manhatten and Paris in this one. Paris seems like such a beautiful city, and I loved the descriptions of the other countries that Josh and Isla visited, as well. I eventually hope to go to Europe, and the setting is written just as beautifully as her other novels.
The last chapter of this book was absolutely perfect and a great conclusion to the series as a whole. I'd give Isla and the Happily Ever After 4 out of 5 flowers.