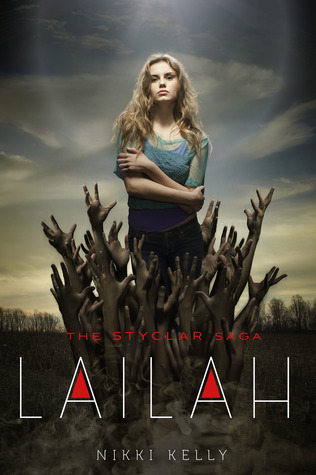 Lailah (The Styclar Saga #1)by Nikki KellyPublisher: Feiwel and Friends
Release Date: October 7th 2014
Read some chapters on WattpadRate: 4 FlowersSynopsis:
The girl knows she's different. She doesn't age. She has no family. She has visions of a past life, but no clear clues as to what she is, or where she comes from. But there is a face in her dreams – a light that breaks through the darkness. She knows his name is Gabriel.
On her way home from work, the girl encounters an injured stranger whose name is Jonah. Soon, she will understand that Jonah belongs to a generation of Vampires that serve even darker forces. Jonah and the few like him, are fighting with help from an unlikely ally – a rogue Angel, named Gabriel.
In the crossfire between good and evil, love and hate, and life and death, the girl learns her name: Lailah. But when the lines between black and white begin to blur, where in the spectrum will she find her place? And with whom?
Gabriel and Jonah both want to protect her. But Lailah will have to fight her own battle to find out who she truly is.
I don't read paranormal books that often, but I was excited for Lailah as it sounded like an especially unique one. It proved to be both an action-packed and compelling read, making it one of my new favorites!
The story itself was addicting. I read the entire book in one sitting and I found myself constantly turning the pages to find out what would happen next. The story starts out with a flashback, and from there, it goes to Lailah waking up with very little memory of her past. The storyline was very detailed, with all sorts of paranormal and even some historical aspects incorporated. There's also some mysterious elements to the novel, which made everything more intriguing.
Lailah was a likable character, and I admired her strength and determination. She's initially not aware of her past, but she still makes the best of her current situation and does her best to find answers. She goes through a lot of character growth over the course of the novel and it was interesting to see how certain events changed her.
The love triangle in this book is written really well! The two guys, Gabriel and Jonah, are complete opposites and I'm curious to see where people will end up in choosing teams. Gabriel, the rogue angel, is already connected to Lailah and shares a past with her. I personally found him to be a more boring love interest (at least as boring as a rogue angel can be ;) than Jonah. He was nice, but I wasn't particularly rooting for him and Lailah to get together. Jonah is definitely my favorite! He's a vampire, and from the moment he and Lailah meet, things between them were pretty interesting ;)
The ending of Lailah leaves me so excited for the sequel! The ending was only a mild cliffhanger, but 2015 seems too far away. Lailah's definitely an awesome paranormal read, and a book that I'd recommend to anyone who likes the paranormal genre or faster paced books. I'd give it 4 out of 5 flowers.
I was born and raised only minutes away from the chocolately scent of Cadbury World in Birmingham, England. So it will probably come as no surprise that when I'm not dreaming in Vampires & Angels, I dream in chocolate! For the past ten years I have lived in West London with my hubby and two dogs, Alfie - the Pug & Goose - the Chihuahua.
LAILAH is my debut novel, and first launched in serial form to wattpad, a readers & writers community. Within just 6months, LAILAH had over a million reads and thousands of comments and votes.
Since then, The Styclar Saga has gone on to pick up a traditional deal with Feiwel & Friends, and LAILAH, the first book in the series is due for release on October 7th 2014.
These days I spend my time balancing my amazing job of writing fantasy fiction, with my other, very important role of Chocolate Connoisseur. I like to multitask and do the two together. It makes me happy.
a Rafflecopter giveaway