Ok. So I know Christmas is over a month away, but it snowed in my town today for the first time this year, the local radio station is already playing Christmas music, and winter break is calling my name. How can I not think about Christmas???
And Christmas means bookstore gift cards (because that's all I ask for)
And gift cards means more books! YAY!
So today I was thinking about some of the books I'm looking forward to getting this Christmas.
I cheated a little bit, because some of these books won't be out by Christmas (ok most of them)…but let's just say I'll save the money until they come out.
Princess of Thorns by Stacey Jay
Game of Thrones meets the Grimm's fairy tales in this twisted, fast-paced romantic fantasy-adventure about Sleeping Beauty's daughter, a warrior princess who must fight to reclaim her throne.
Though she looks like a mere mortal, Princess Aurora is a fairy blessed with enhanced strength, bravery, and mercy yet cursed to destroy the free will of any male who kisses her. Disguised as a boy, she enlists the help of the handsome but also cursed Prince Niklaas to fight legions of evil and free her brother from the ogre queen who stole Aurora's throne ten years ago.
Will Aurora triumph over evil and reach her brother before it's too late? Can Aurora and Niklaas break the curses that will otherwise forever keep them from finding their one true love?
Fantasy/Fairytale Retelling? I WANT!!
The Conspiracy of Us by Maggie Hall
To fight her destiny as the missing heir to a powerful and dangerous secret society, sixteen-year-old Avery West must solve an ancient puzzle in a deadly race across Europe. Forbidden love and code-breaking, masked balls and explosions, destiny and dark secrets collide in this romantic thriller, in the vein of a YA DaVinci Code.
Avery West's newfound family can shut down Prada at the Champs-Elysees when they want to shop in peace, and can just as easily order a bombing when they want to start a war.
They are part of a powerful and dangerous secret society called the Circle of Twelve, and Avery is their missing heir. If they discover who she is, some of them will want to use her as a pawn. Some will want her dead.
To thwart their plans, Avery must follow a trail of clues from the landmarks of Paris to the back alleys of Istanbul and through a web of ancient legends and lies. And unless she can stay one step ahead of beautiful, volatile Stellan, who knows she's more than she seems, and can decide whether to trust mysterious, magnetic Jack, she may be doomed after all.
Just look at that cover! And an amazing synopsis to match that awesomeness!
The Mime Order by Samantha Shannon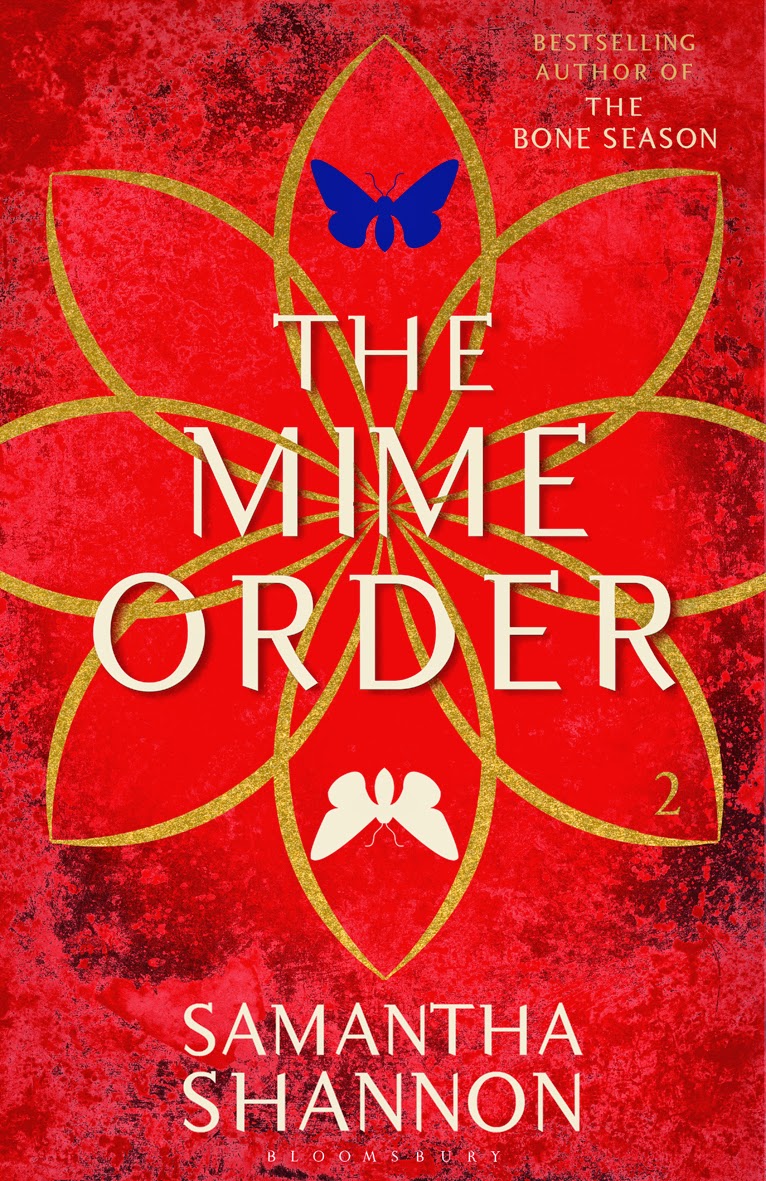 Paige Mahoney has escaped the brutal penal colony of Sheol I, but her problems have only just begun: many of the fugitives are still missing and she is the most wanted person in London.

As Scion turns its all-seeing eye on Paige, the mime-lords and mime-queens of the city's gangs are invited to a rare meeting of the Unnatural Assembly. Jaxon Hall and his Seven Seals prepare to take center stage, but there are bitter fault lines running through the clairvoyant community and dark secrets around every corner.

Then the Rephaim begin crawling out from the shadows. But where is Warden? Paige must keep moving, from Seven Dials to Grub Street to the secret catacombs of Camden, until the fate of the underworld can be decided. Will Paige know who to trust? The hunt for the dreamwalker is on.
I've waited to long for this sequel!
Red Queen by Victoria Aveyard
A thrilling new fantasy trilogy for fans of DIVERGENT and THE HUNGER GAMES.
The poverty stricken Reds are commoners, living under the rule of the Silvers, elite warriors with god-like powers.
To Mare Barrow, a 17-year-old Red girl from The Stilts, it looks like nothing will ever change.
Mare finds herself working in the Silver Palace, at the centre of
those she hates the most. She quickly discovers that, despite her red blood, she possesses a deadly power of her own. One that threatens to destroy Silver control.
But power is a dangerous game. And in this world divided by blood, who will win?
This one has so many good reviews already. And I can't get over that cover!
The Glass Arrow by Kristen Simmons
The Handmaid's Tale meets Blood Red Road in Glass Arrow, the story of Aya, who lives with a small group of women on the run from the men who hunt them, men who want to auction off breeding rights to the highest bidder.

In a world where females are scarce and are hunted, then bought and sold at market for their breeding rights, 15-year old Aya has learned how to hide. With a ragtag bunch of other women and girls, she has successfully avoided capture and eked out a nomadic but free existence in the mountains. But when Aya's luck runs out and she's caught by a group of businessmen on a hunting expedition, fighting to survive takes on a whole new meaning.
I wonder how many people have read The Handmaid's Tale…because it is awesome. (Yay English majors!)
A Darker Shade of Magic by V.E. Schwab
From V.E. Schwab, the critically acclaimed author of Vicious, comes a new universe of daring adventure, thrilling power, and parallel Londons, beginning with A Darker Shade of Magic.
Kell is one of the last Travelers—magicians with a rare, coveted ability to travel between parallel universes—as such, he can choose where he lands.
There's Grey London, dirty and boring, without any magic, ruled by a mad King George. Then there's Red London, where life and magic are revered, and the Maresh Dynasty presides over a flourishing empire. White London, ruled by whoever has murdered their way to the throne—a place where people fight to control magic, and the magic fights back, draining the city to its very bones. And once upon a time, there was Black London...but no one speaks of that now.
Officially, Kell is the Red Traveler, personal ambassador and adopted Prince of Red London, carrying the monthly correspondences between the royals of each London. Unofficially, Kell is a smuggler, servicing people willing to pay for even the smallest glimpses of a world they'll never see—a dangerous hobby, and one that has set him up for accidental treason. Fleeing into Grey London, Kell runs afoul of Delilah Bard, a cut-purse with lofty aspirations, who first robs him, then saves him from a dangerous enemy, and then forces him to spirit her to another world for a proper adventure.
But perilous magic is afoot, and treachery lurks at every turn. To save all of the worlds, Kell and Lila will first need to stay alive—and that is proving trickier than they hoped.
Victoria Schwab's adult novels are so addicting! Can't wait to get my hands on this one!
Shadow Scale by Rachel Hartman
Seraphina took the literary world by storm with 8 starred reviews and numerous "Best of" lists. At last, her eagerly awaited sequel has arrived—and with it comes an epic battle between humans and dragons.
The kingdom of Goredd: a world where humans and dragons share life with an uneasy balance, and those few who are both human and dragon must hide the truth. Seraphina is one of these, part girl, part dragon, who is reluctantly drawn into the politics of her world. When war breaks out between the dragons and humans, she must travel the lands to find those like herself—for she has an inexplicable connection to all of them, and together they will be able to fight the dragons in powerful, magical ways.
As Seraphina gathers this motley crew, she is pursued by humans who want to stop her. But the most terrifying is another half dragon, who can creep into people's minds and take them over. Until now, Seraphina has kept her mind safe from intruders, but that also means she's held back her own gift. It is time to make a choice: Cling to the safety of her old life, or embrace a powerful new destiny?
The first book in this series was incredible and I have waited far too long for this continuation of the tale.
Dreamfire by Kit Alloway
Joshlyn Weaver has always lived with a big secret. Ordinary kids spend their free time going to the movies, hanging out with friends, and searching on the internet. But for her, an evening at home usually means entering people's dreams. For many generations, her family has been part of a very powerful and very secretive society of dream walkers. Tasked with the responsibility of lowering the world's general anxiety—which only leads to war and strife in the waking world—their job has always been to stop nightmares before they go too far. By stopping nightmares while sleeping, they help to stop nightmares in real life. But when an ancient feud within the dream walker society resurfaces right when a seemingly unconnected series of very strange and very scary events start occurring during her dream walks, Josh finds herself in a race against time. The one true dream walker has never been known. Could she be the one?
I swear I'm not choosing these just because of the covers…but look at it! And I love the idea of dream walking.
Yeah. I'm pretty sure my Christmas money won't cover all the books I desperately need. I'll need a second job!
What books are you looking forward to this upcoming year?
Oh hello there! My name is Emily, though some of you may know me as the Bookie Monster. As

the name would suggest, I devour books like the Cookie Monster devours cookies. In my spare time, I like to bake cookies (and devour those as well) and dream about taking over the world. As if my book obsession wasn't life consuming enough, I work in the children's room at my local library and I am currently a sophomore in college majoring in English. It's safe to say I'm a bit of a book fanatic. I discreetly shed a few tears on my eleventh birthday when I did not receive my Hogwarts acceptance letter and I waited seven hours outside in the rain just to get a good seat at the Hunger Games midnight premiere. I'm terrified of blood and Disney movies make me cry (in a good way). My passions include hippos, hugs, and Hans Zimmer…and uh,long walks on the beach. I'm just a normal girl w

ith a slightly abnormal and frightfully expensive obsession. Nice to meet you!