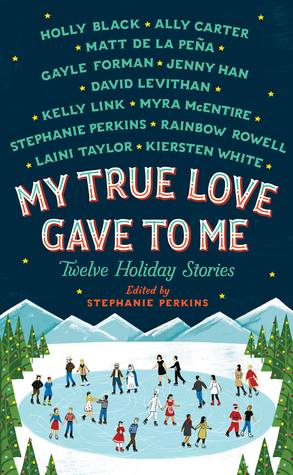 If you love holiday stories, holiday movies, made-for-TV-holiday specials, holiday episodes of your favorite sitcoms and, especially, if you love holiday anthologies, you're going to fall in love with My True Love Gave to Me : Twelve Holiday Stories by twelve bestselling young adult writers (Holly Black, Ally Carter, Matt de La Peña, Gayle Forman, Jenny Han, David Levithan, Kelly Link, Myra McEntire, Rainbow Rowell, Stephanie Perkins, Laini Tayler and Kiersten White), edited by the international bestselling Stephanie Perkins. Whether you celebrate Christmas or Hanukkah, Winter Solstice or Kwanzaa, there's something here for everyone. So curl up by the fireplace and get cozy. You have twelve reasons this season to stay indoors and fall in love.

*A copy was provided by the publisher for review*
My True Love Gave to Me: Twelve Holiday Stories is a collection of 12 short holiday stories written by a variety of authors. See the list of the 12 stories here:
1. Midnights by Rainbow Rowell
2. The Lady and the Fox by Kelly Link
3. Angels in the Snow by Matt de la Pena
4. Polaris Is Where You'll Find Me by Jenny Han
5. It's a Yuletide Miracle, Charlie Brown by Stephanie Perkins
6. Your Temporary Santa by David Levithan
7. Krampuslauf by Holly Black
8. What the Hell Have You Done, Sophie Roth? by Gayle Forman
9. Beer Buckets and Baby Jesus by Myra McEntire
10. Welcome to Christmas, CA by Kierstan White
11. Star of Bethlehem by Ally Carter
12. The Girl Who Woke the Dreamer by Laini Taylor
These 12 are all heart-warming and sweet holiday stories but among them I found some of my favourites. My favourites were Midnights, Polaris Is Where You'll Find Me, and What the Hell Have You Done, Sophie Roth? They were all written amazingly and it's just something sweet to read right before Christmas. Some of my favourite authors wrote stories in this collection and I have to say that I loved reading all of their stories.
If you haven't bought a Christmas present for that bookworm on your list, I'd say you should add this one to your shopping list right now. It's definitely worth a read and it's the perfect thing to cuddle up with a cup of hot tea or chocolate on a cold winter night :)
My name's Ariella and I'm a 15 year old Canadian girl that loves to read. Everything began with a book called the Lightning Thief and from there I was hooked. I enjoy and read all kinds of genres but my favourites are paranormal and mythology. I love reading YA books but I love Middle Grade books as well. I also blog over at Secrets of Lost Words. You can usually find me crawling on twitter so feel free to contact me!