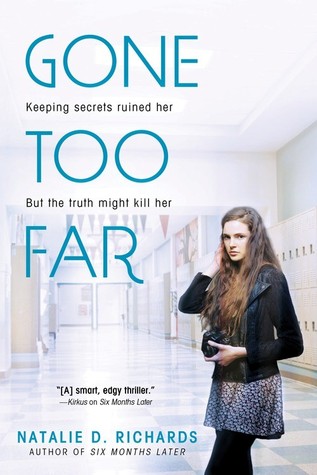 Keeping secrets ruined her life. But the truth might just kill her.

Piper Woods can't wait for the purgatory of senior year to end. She skirts the fringes of high school like a pro until the morning she finds a notebook with mutilated photographs and a list of student sins. She's sure the book is too gruesome to be true, until pretty, popular Stella dies after a sex-tape goes viral. Everyone's sure it's suicide, but Piper remembers Stella's name from the book and begins to suspect something much worse.

Drowning in secrets she doesn't want to keep, Piper's fears are confirmed when she receives an anonymous text message daring her to make things right. All she needs to do is choose a name, the name of someone who deserves to be punished...
Source: Publisher
I've never read anything by this author so I went into it without much expectations. Even then, this book failed to impress me. This book is about a girl named Piper that suddenly stumbled upon a notebook filled with names of the kids at school along with every bad thing that they did. Then, the next day, an anonymous text came. It told her to name someone and then they will pay.
I don't know what it was about this book, but I wasn't all that interested in what was happening. I couldn't relate to Piper at all, and it seemed like she's making everything bigger than it needs to be. Throw in some romance with the hot (but down-to-earth) jock and bam there you have this book.
I would read a chapter or two of this book and then put it down for a week or two before picking it up again. I didn't feel the need to find out what's happening next. I wasn't even curious who the anonymous partner-in-crime was. I didn't feel anything for the love interest either. Nothing really jumped out at me in this book. It was all very average and boring. The only reason I didn't give it one flower was because I somehow managed to finish this book.
I think this book just wasn't for me. I'm not all that into high school drama / revenge type of books. The writing still flows very nicely, but the plot and characters are very average for this type of books. If you like high school dramas, I would still recommend you to try it.
My name's Ariella and I'm a 16 year old Canadian girl that loves to read. Everything began with a book called the Lightning Thief and from there I was hooked. I enjoy and read all kinds of genres but my favourites are paranormal and mythology. I love reading YA books but I love Middle Grade books as well. I also blog over at Secrets of Lost Words. You can usually find me crawling on twitter so feel free to contact me!