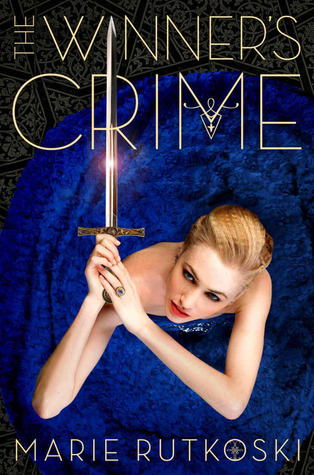 Book two of the dazzling Winner's Trilogy is a fight to the death as Kestrel risks betrayal of country for love.

The engagement of Lady Kestrel to Valoria's crown prince means one celebration after another. But to Kestrel it means living in a cage of her own making. As the wedding approaches, she aches to tell Arin the truth about her engagement…if she could only trust him. Yet can she even trust herself? For—unknown to Arin—Kestrel is becoming a skilled practitioner of deceit: an anonymous spy passing information to Herran, and close to uncovering a shocking secret.

As Arin enlists dangerous allies in the struggle to keep his country's freedom, he can't fight the suspicion that Kestrel knows more than she shows. In the end, it might not be a dagger in the dark that cuts him open, but the truth. And when that happens, Kestrel and Arin learn just how much their crimes will cost them.
I read the Winner's Curse last year and the book was absolutely amazing! It had everything that I wanted in a fantasy book (awesome action scenes and lovely romance). I absolutely cannot wait for this book! I got gifted the Winner's Curse for the holiday season and this definitely calls for a re-read! Let's all hope that March will come soon! :)
My name's Ariella and I'm a 16 year old Canadian girl that loves to read. Everything began with a book called the Lightning Thief and from there I was hooked. I enjoy and read all kinds of genres but my favourites are paranormal and mythology. I love reading YA books but I love Middle Grade books as well. I also blog over at Secrets of Lost Words. You can usually find me crawling on twitter so feel free to contact me!