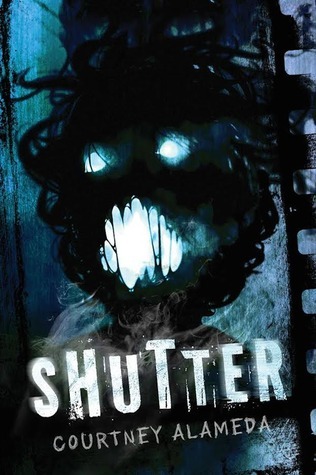 Horror has a new name: introducing Courtney Alameda.

Micheline Helsing is a tetrachromat—a girl who sees the auras of the undead in a prismatic spectrum. As one of the last descendants of the Van Helsing lineage, she has trained since childhood to destroy monsters both corporeal and spiritual: the corporeal undead go down by the bullet, the spiritual undead by the lens. With an analog SLR camera as her best weapon, Micheline exorcises ghosts by capturing their spiritual energy on film. She's aided by her crew: Oliver, a techno-whiz and the boy who developed her camera's technology; Jude, who can predict death; and Ryder, the boy Micheline has known and loved forever.

When a routine ghost hunt goes awry, Micheline and the boys are infected with a curse known as a soulchain. As the ghostly chains spread through their bodies, Micheline learns that if she doesn't exorcise her entity in seven days or less, she and her friends will die. Now pursued as a renegade agent by her monster-hunting father, Leonard Helsing, she must track and destroy an entity more powerful than anything she's faced before . . . or die trying.

Lock, stock, and lens, she's in for one hell of a week.
Shutter by Courtney Alameda is a good change of pace for me. I'm not usually into horror books because I get scared easily. This one was really interesting and it had my heart pounding at some really scary parts.
I think my favourite part of this book is the different type of ghosts and creatures. The main character Micheline can see ghostlight and she can differentiate between the different types of creatures. There's also a really unique way of capturing ghosts by capturing them on camera. When one mission goes awry, she's infected with soulchains along with her team mates. She only has a limited amount of time to exorcise the entity before she and her team dies.
The characterizations are also done well. All the team members are interesting and I'd have to say my favourite is Jude with his sass. He's the most humourous. The protagonist Micheline is also an admirable heroine. She's tough as nails and she's not afraid to back down from any challenge. She's very stubborn too.
My only complain is that I don't like the romance that much. It feels forced to me. Ryder the love interest and Micheline has a childhood friends type relationship. I don't really go for it too much, and it just feels like an extra unneeded part in the story, in my opinion.
Overall, Shutter by Courtney Alameda is a book I'd recommend to horror and paranormal fans. I love the concepts about the creatures of the undead and the tetrachromats. Make sure to try it out!
My name's Ariella and I'm a 16 year old Canadian girl that loves to read. Everything began with a book called the Lightning Thief and from there I was hooked. I enjoy and read all kinds of genres but my favourites are paranormal and mythology. I love reading YA books but I love Middle Grade books as well. I also blog over at Secrets of Lost Words. You can usually find me crawling on twitter so feel free to contact me!