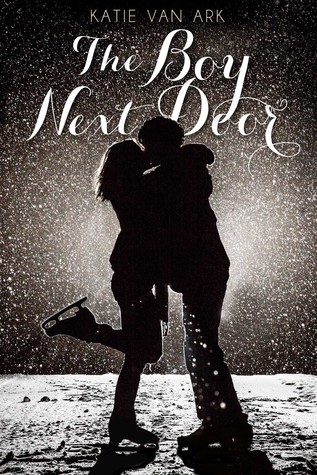 Maddy Spier has been in love with the boy next door forever. As his figure skating partner she spends time in his arms every day. But she's also seen his arms around other girls—lots of other girls.




Gabe can't imagine skating with anyone but Maddy, and together they have a real chance at winning some serious gold medals. So, he's determined to keep thinking of her like a sister. After all, he's never had a romantic relationship that lasted for more than two weeks.




But when their coach assigns a new romantic skating program, everything changes. Will this be the big break that Maddy's been hoping for or the big breakup that Gabe has always feared?
I love the idea behind SwoonReads and how it lets readers play a role in which books get published. It's a goal of mine to read all of the books SwoonReads releases as well as some of the manuscripts available on their site. The Boy Next Door proved to be the perfect Valentine's Day read with a super cute love story and tons of great figure skating scenes.
I loved all of the figure skating in this novel. It was so much fun to read about, and while not something that I do myself, I still devoured every word depicting the various sequences and techniques Gabe and Maddy worked on. The way it was described made it sound so beautiful, especially the way that figure skating is able to tell an actual story. I even ended up looking up videos of the sequences and moves that Gabe and Maddy skated, which were just as amazing as they were described to be.
I thought the backstory to Gabe and Maddy's relationship was very sweet, especially since I've always had a weakness for best friend love stories, which was the story behind Gabe and Maddy in The Boy Next Door. They'd been pair skaters ever since they were little kids and friends for even longer. The way that Gabe and Maddy transitioned from just friends to something more was written so well. Gabe and Maddy both made their own mistakes, but although sometimes frustrating to read about, it just succeeded in adding realism to the plot.
I'm so happy that The Boy Next Door was told in dual povs, as it allowed the reader to see both sides of the story and the way that Gabe and Maddy both felt and thought about one another. There was one or two instances in which it felt like unnecessary drama was created in their relationship just to add conflict to the plot, but overall, I really enjoyed the romance! It was steamier than I expected, but Gabe and Maddy's relationship was based on so much more than just physical attraction. Their relationship was very sweet and one I was rooting for the entire novel.
The Boy Next Door is a perfect winter read, especially if you enjoy ice-skating or are looking to read a really cute love story. I'd give The Boy Next Door 4 out of 5 flowers.