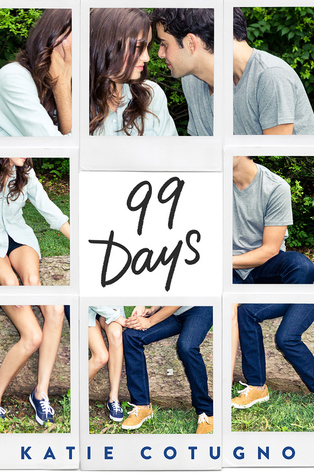 Day 1: Julia Donnelly eggs my house my first night back in Star Lake, and that's how I know everyone still remembers everything—how I destroyed my relationship with Patrick the night everything happened with his brother, Gabe. How I wrecked their whole family. Now I'm serving out my summer like a jail sentence: Just ninety-nine days till I can leave for college, and be done.




Day 4: A nasty note on my windshield makes it clear Julia isn't finished. I'm expecting a fight when someone taps me on the shoulder, but it's just Gabe, home from college and actually happy to see me. "For what it's worth, Molly Barlow," he says, "I'm

really glad you're back."




Day 12: Gabe got me to come to this party, and I'm actually having fun. I think he's about to kiss me—and that's when I see Patrick. My Patrick, who's supposed to be clear across the country. My Patrick, who's never going to forgive me.
*
This review contains minor spoilers regarding the plot of 99 Days.
Although I haven't read it, after hearing so many polarizing things about Cotugno's debut, How To Love, I was curious to give 99 Days a try. Unfortunately, despite the addictive writing, I couldn't like or relate to a single character and ended up very frustrated by the ending.
99 Days follows Molly, a girl who returns to her hometown a year after fleeing it. The summer before she had betrayed and hurt her (now ex) boyfriend Patrick, by sleeping with his brother, Gabe. Molly was a difficult character for me to like from the beginning. Her instinct in every situation was to flee, which was extremely frustrating to me, especially due to the destruction that she left in her wake. I couldn't understand her reasoning at all, either. Cheating was such a prevalent part of the novel, which made it pretty much impossible for me to sympathize with any of the characters involved. She betrays Patrick after being in a relationship with (and supposedly loving) him for most of her life, and the explanation she gave for it literally made no sense to me. There's also quite a bit of cheating that goes on over the course of the 99 days she has to spend in her hometown.
Although I preferred Patrick, I didn't end up actually liking either him or Gabe by the end of the novel. In the flashbacks, Patrick seemed like a genuinely good guy, despite some communication issues and problems in his and Molly's relationship. However, over the course of the 99 days, I grew to be frustrated by how hypocritical he was. On the other hand, I just couldn't find Gabe attractive or nice in any way. He was friendly, but the way he had been so quick to betray his brother-and the reasoning he gave for it- completely took away from any likable characteristics for me. There were one or two side characters that I didn't mind, but most of the characters, including all of the main ones, were incredibly unlikable.
The one I thing I did enjoy about this book was the writing style. It was addicting and this book almost reminded me of an episode of Gossip Girl. Despite me not liking the characters, I constantly wanted to know what would happen next. The ending, though, was incredibly frustrating. Several things were left unresolved and revelations were made that were simultaneously confusing and seemed to come out of nowhere. I was not a fan of the ending, to say the least.
I'd give 99 Days 2 out of 5 flowers. I enjoyed the writing style, but it wasn't enough to make up for extremely unlikable characters and an abrupt, frustrating ending.