Hi everyone! I recently had the chance to interview Beth Kephart, the author of One Thing Stolen. Here's more about her latest novel and the interview: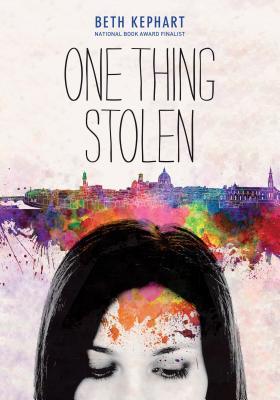 Something is not right with Nadia Cara. While spending a year in Florence, Italy, she's become a thief. She has secrets. And when she tries to speak, the words seem far away. Nadia finds herself trapped by her own
obsessions and following the trail of an elusive Italian boy whom only she has seen. Can Nadia be rescued or will she lose herself altogether? Set against the backdrop of a glimmering city, One

Thing Stolen is

an exploration of obsession, art, and a rare neurological disorder. It is a celebration of language, beauty, imagination, and the salvation of love.



One Thing Stolen

will prompt conversations about mental wellness, the terror of obliteration, the responsibilities of friends, and the historic flooding of the Arno River in November 1966, an event that threatened to destroy some of the world's most precious art, and is a reminder of the power of forces greater than ourselves.
One Thing Stolen is set in Italy. What research did you do surrounding the setting?
All of my books are research intensive—requiring travel, interviews, secondary research, long walks, photographs, the late-night study of those photographs. In this case, I returned to Florence, a city I've always loved, stayed in an apartment much like Nadia's, took leather-working classes in Santa Croce, like Benedetto, went to the gardens in rain, talked to neuroscientists, and studied birds. I also teach at Penn and know West Philadelphia well, but I didn't take my familiarity with either for granted. I researched those places, too.
What's your writing process like? Has it changed in writing this novel vs your very first one?
I write slowly. I don't write at all in the spring, when I teach memoir at Penn. The rest of the year I fit the writing in around a full-time job (I run a boutique marketing communications company) and numerous reviews and essays. All that said, when I do write, I begin with pen and paper, away from the computer. I work and work and work an opening scene until I have the rhythm of the story. I edit mercilessly. I am still editing mercilessly until my editor says I have to stop.
In five words, how would you summarize One Thing Stolen?
A search for meaningful hope.
If you could have dinner with any three authors, who would they be?
Michael Ondaatje, Alice McDermott, Per Petterson.
Quick Questions:
Ice Cream or Frozen Yogurt?
Hmmmm. Well. There you have me.