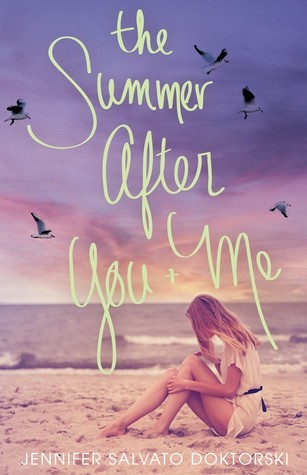 Will it be a summer of fresh starts or second chances?

For Lucy, the Jersey Shore isn't just the perfect summer escape, it's home. As a local girl, she knows not to get attached to the tourists. They breeze in during Memorial Day weekend, crowding her costal town and stealing moonlit kisses, only to pack up their beach umbrellas and empty promises on Labor Day. Still, she can't help but crush on charming Connor Malloy. His family spends every summer next door, and she longs for their friendship to t

urn into something deeper.




Then Superstorm Sandy sweeps up the coast, bringing Lucy and Connor together for a few intense hours. Except nothing is the same in the wake of the storm, and Lucy is left to pick up the pieces of her broken heart and her broken home. Time may heal all wounds, but with Memorial Day approaching and Connor returning, Lucy's summer is sure to be filled with fireworks.
Guest Post: Are you a pantser or a plotter?
Growing up, I was a huge fan of the comic strip Calvin and Hobbes. Recently, a good friend of mine posted one of the old strips on Facebook. In it, Calvin, who is digging in his sandbox, says to Hobbes, "You can't just turn on creativity like a faucet, you have to be in the right mood."
"What mood is that?" Hobbes asks.
"Last-minute panic," Calvin replies.
Maybe it's because I began my writing career as a journalist and thrive on deadline pressure, or maybe it's because I never could figure out how to do a proper outline with Roman numerals, capital letters, and numbers, or maybe I'm just stubborn, but Calvin pretty much summed up my process. So yeah, I'm definitely a pantser. Believe me, I wish I could be a plotter. I want to be a plotter. It makes sense, right? I don't take off on road trips without using GPS and a road atlas, so I'm not sure why I head off blindly onto the blank page. I'm told by authors who have converted from being pantsers to plotters that plotting IS easier. But I don't know, there's something about sheer panic that helps the words spill out faster and gets that first draft (ugly as it may be) down on paper. Even when I'm not facing an editorial deadline, I make my own. For this, it's nice to have critique partners who keep me honest and on a writing schedule. I've tried in the past to write lengthy outlines only to find myself so bogged down in completing the outline, that those books never get written.
Outlining kills my process, however I've learned that other methods of plotting do not. After my rough draft is done, on revision, I do use visual devices like posters or larger colorful notecards on which I write out every scene in the book. This helps me see if the plot is working and which scenes need the most help. During one particularly rough revision—my editor asked me to insert a subplot into the existing story—an author friend recommended I read Martha Alderson's books and watch her YouTube videos. Known as The Plot Whisperer, Martha's techniques for tracking scenes have helped me tremendously. Using Martha's method, I once made a six-foot tall chart that included every scene in my novel. It hung beside my desk until my revision was done, slapping colorful Post-Its on it whenever I had an idea.
Jennifer Salvato Doktorski is the author of two YA novels and is a freelance nonfiction writer. Her first paid writing gig was at The North Jersey Herald & News, where she wrote obituaries and began her lifelong love of news and coffee. She lives in New Jersey with her family.
\