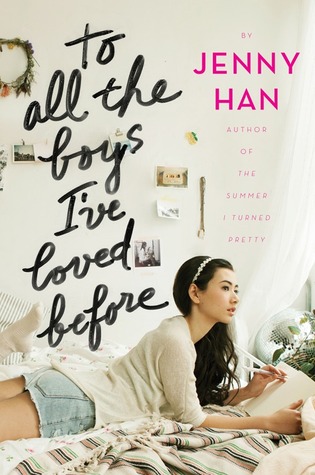 To All the Boys I've Loved B

efore is the story of Lara Jean, who has never openly admitted her crushes, but instead wrote each boy a letter about how she felt, sealed it, and hid it in a box under her bed. But one day Lara Jean discovers that somehow her secret box of letters has been mailed, causing all her crushes from her past to confront her about the letters: her first kiss, the boy from summer camp, even her sister's ex-boyfriend, Josh. As she learns to deal with her past loves face to face, Lara Jean discovers that something good may come out of these letters after all.
To All The Boys I've Loved Before is a book that's received so much praise and love from the book world, and I just never picked it up from my shelf. However, upon subscribing to Scribd, I discovered it was one of the audiobooks they offered. For some reason, that title caught my attention, and I downloaded it. This was my first young adult audiobook, and I really enjoyed the narration! The narrator was great and as for the story itself, with the exception of a voice that felt too young and immature for a teenager, I was hooked on the story and its' ending- which left me reeling.
When I initially started the novel, the way Lara Jean spoke and acted struck me as immature and just having a much younger voice than someone her age would. She's described to be "sixteen going on seventeen" and as an eighteen year old, I felt like her character seemed much younger than that and wasn't realistic. Her younger sister, Kitty, is nine and at times, I just felt like there wasn't much difference in their maturity levels. This was grating to me at first, but as the book went on, I felt like the younger voice was either less noticeable or starting to decrease. Lara Jean was perfectly likable, and I connected with her on several levels, especially with her feelings on driving.
Jenny Han did such an amazing job of developing both the characters and the messages in the story. There's such a relatable idea of pining after a guy you know is unattainable so that you don't have to be confronted with the immediate reality of a relationship. While this hasn't been the exact same scenario for me, I could completely understand it and it really made me think. To All The Boys I've Loved Before managed to simultaneously be heartbreaking, hopeful, and hilarious at various points. Jenny Han is a genius at messing with your emotions.
For the other characters, Peter K <3 Maybe it was the audiobook, but at first, I couldn't take him seriously. He just seemed like such a jerk. However, as the story continues on, there's shown to be so much more to him than there initially seemed to be. This novel contains one of my favorite tropes in contemporaries, too. I don't want to spoil it, so I won't say much more, but the way it played out was done so well! As for the side characters, some did seem a bit one-dimensional and I had a strong dislike towards Margo (one of Lara Jean's sisters), but I've heard that several of the characters get a lot more developed in P.S. I Still Love You, a novel I intend to read right away. I've already downloaded the audiobook for it :) If you're looking to try an audiobook and you haven't read this one, it's definitely one I'd recommend! I finished the audiobook within a few days and I thought that the pacing was perfect.
Despite the rocky start I had with To All The Boys I've Loved Before due to the extremely young-sounding voice of Lara Jean, I ended up being hooked to the very end and loving the messages that developed regarding relationships and taking chances. I am so excited to continue on with the conclusion to this duology, especially after how abrupt the ending was. I'd give To All The Boys I've Loved Before 3.5 out of 5 flowers.