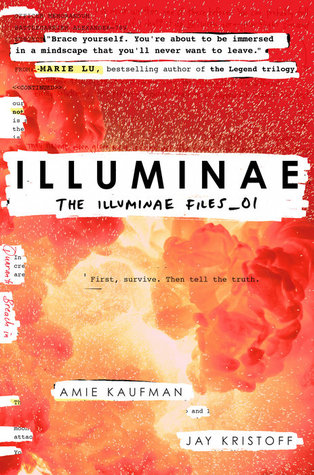 This morning, Kady thought breaking up with Ezra was the hardest thing she'd have to do.

This afternoon, her planet was invaded.

The year is 2575, and two rival megacorporations are at war over a planet that's little more than an ice-covered speck at the edge of the universe. Too bad nobody thought to warn the people living on it. With enemy fire raining down on them, Kady and Ezra—who are barely even talking to each other—are forced to fight their way onto an evacuating fleet, with an enemy warship in hot pursuit.

But their problems are just getting started. A deadly plague has broken out and is mutating, with terrifying results; the fleet's AI, which should be protecting them, may actually be their enemy; and nobody in charge will say what's really going on. As Kady hacks into a tangled web of data to find the truth, it's clear only one person can help her bring it all to light: the ex-boyfriend she swore she'd never speak to again.

Told through a fascinating dossier of hacked documents—including emails, schematics, military files, IMs, medical reports, interviews, and more—Illuminae is the first book in a heart-stopping, high-octane trilogy about lives interrupted, the price of truth, and the courage of everyday heroes

.
The hype for this book is unreal and this review is basically just going to add to it! I'm not much of a sci-fi fan, with not tending to enjoy the books I've read from the genre and having never seen Star Wars or other similar films. However, both the praise from various authors and unique form of storytelling of Illuminae interested me. I am so happy I ended up reading Illuminae because it was a fantastic novel that has a unique way of storytelling which made the pages fly by!
The way documents and images are used to tell the story was so unique, but worked so well. I feel like it made the story feel more visual, as if everything was playing out directly in front of you. From surveillance footage to conversations on hacked government feeds, each document played a critical role in the story. It amazes me how the authors were able to accomplish that. I am truly stunned by the way Amie Kaufman and Jay Kristoff developed the story.
There are main characters, Ezra and Kady, despite the way the story's told. A couple who broke up right before Kerenza was attacked, the way they communicate with each other amid the chaos definitely lended a humorous element to the story. They were a great couple, especially in the way they held on to each other amid the chaos.
There were several twists and developments I didn't expect. Just when you think there's nothing else that can possibly happen, something does. There was a lot more depth to the story than it initially seems, and there were so many relevant issues. From ideas about how much the people in power should be able to decide for the people they hold power over to the value of life, Illuminae seamlessly confronted these issues. It tackled the intricacies of humanity. While I felt the beginning was a bit confusing to me, things quickly began to make sense as more things fell into place. The last two thirds of the novel had great pacing and I couldn't stop reading it.
Illuminae is a fantastic novel deserving of all the hype it's received. Even if you're not a sci-fi fan, I'd recommend giving this book a try as you may enjoy it! :) As someone who is not much of a sci-fi reader, I still really enjoyed it. I'd give it 4 out of 5 flowers. Definitely pick this one up!