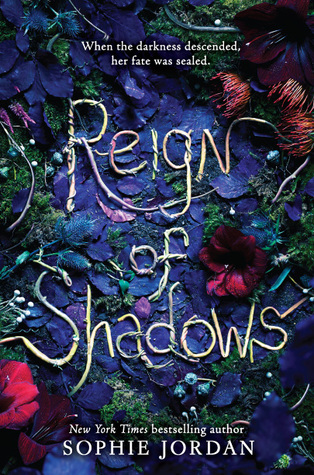 Seventeen years ago, an eclipse cloaked the kingdom of Relhok in perpetual darkness. In the chaos, an evil chancellor murdered the king and queen and seized their throne. Luna, Relhok's lost princess, has been hiding in a tower ever since. Luna's survival depends on the world believing she is dead.




But that doesn't stop Luna from wanting more. When she meets Fowler, a mysterious archer braving the woods outside her tower, Luna is drawn to him despite the risk. When the tower is attacked, Luna and Fowler escape together. But this world of darkness is more treacherous than Luna ever realized.




With every threat stacked against them, Luna and Fowler find solace in each other. But with secrets still unspoken between them, falling in love might be their most dangerous journey yet.
Sophie Jordan is pretty much an auto-buy author for me and with having read ten of her books, I was so excited to read Reign of Shadows (especially since it features a love-to-hate romance- which I usually love). While Reign of Shadows ultimately was not my favorite Sophie Jordan read as I felt that both the pace was a bit slow and that there was too much foreshadowing, it was still an enjoyable read with a slow-burn romance.
Reign of Shadows follows Luna, a former princess of Relhok who has been living safely enclosed in a tower, as she's forced to come out of hiding with the help of Fallon- a wandering archer that despite having no interest in helping her makes a promise to. Reign of Shadows is told through the dual povs of Luna and Fowler. Fallon was gruff, but had a good heart. Luna is desperate to get out of the tower in the beginning of the novel and see what's actually out there in the world. I understood the feeling of wanting to make your own way in the world. The world of Reign of Shadows is one filled with darkness and dwellers, deadly creatures that came about with the darkness.
On Fallon and Luna's journey, their relationship slowly but surely develops. While it wasn't my favorite Sophie Jordan romance, Fallon was gruff but lovable. Luna, initially naive, comes to realize the realities of this world. She was a bit too self-sacrificing (like Elena on The Vampire Diaries), but she did seem to have genuinely good intentions. I feel like the plot did drag a bit at times. Although it's a fairly short book, I think it hit a pretty slow patch in the middle. The plot got a bit boring to me at times as a lot of it is just the two of them moving through the forest. However, that's not to say the whole book was slow. There was definitely a fair share of action and the way the world was developed was fascinating. How people would adapt to a world with no sun and the way creatures would end up evolving was so interesting and definitely makes you think about just how much the sun truly impacts/affects the world.
One complaint I do have about Reign of Shadows is the amount of foreshadowing. The twist was too easy to guess in my opinion and I had it figured out way early on in the book. I feel like the twist was supposed to be some shocking reveal, but unfortunately, I wasn't surprised whatsoever. I wish the author had toned down the flashbacks and foreshadowing a bit more. I think it would have been much more exciting had the mystery been more of one.
The ending is definitely more of a cliff-hanger, although I don't absolutely need to read the next novel. I still intend to, as Sophie Jordan is such a great author, but I don't mind the wait. Reign of Shadows is a book I'd recommend to any Sophie Jordan fan or readers who don't mind a fairly obvious twist. I'd give Reign of Shadows 3 out of 5 flowers.